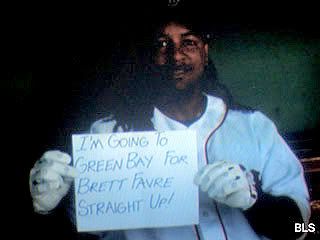 So Manny wants to be traded...
Manny likes Boston...
Manny likes the Boston Fans...
Manny thinks the Red Sox don't deserve a player like him...
I mean really?? Flip flop much?? Maybe Spanish will get through his thick skull: Yo renuncia mala mucho???
Manny has gotten $168 million bucks over the past 8 years and he wants to make sure he can get one more big fucking pay day. He does
NOT
want the Sox to pick up his 2 options because then he will be 39 and he won't get the pay day he thinks he deserves.
FUCK HIM
. Play for what you signed...stop being a bitch!
This is the proposed deal on the table (3 way Boston, Florida and Pittsburgh):
The current parameters of the trade have
Jason Bay
and reliever
John Grabow
coming to Boston, Marlins outfielder
Jeremy Hermida
and two prospects heading to Pittsburgh and Ramirez plus a prospect fortifying Florida.
If this is the best we can get then I say pull the trigger. As Mikey T said...Let the Jason Bay ERA start!!
And now another story I am sick of. Brett Favre, I retired - I un-retired - I retired - I un-retired - I retired - I un-retired - I want to be a Packer - I dont want to be a Packer -I want to be a Viking - I just want to play football - I retired - I will be at training camp - I won't be at training camp!!
ENOUGH!
It has gotten sooooo bad that the Packers apparenlty have offered him cash monies to stay retired:
The Packers on Wednesday offered Favre a substantial sum of money -- as much as $20 million over several years -- to stay retired.
Just trade the guy, say he forced your hand and this is what he wanted. Find a way to make it work for everyone. It worked here in Boston: Ray Bourque wanted to be traded to a winner, we obliged and he won the cup with The Colorado Avalanche...we still love Bourque, he loves us and no one bitches that he quit on the B's!!
Enough sports for today....Its Thirsty Thurday. Get your drink on people